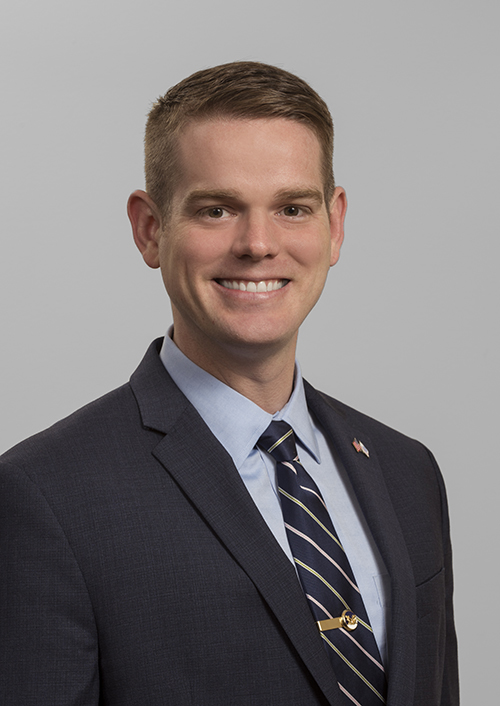 Thomas L. Harper
Thomas L. Harper is Of Counsel at Zator Law and concentrates his legal practice in the areas of business and real estate transactions, leasing, litigation and arbitration, as well as zoning, land use, and municipal law. Thomas came to Zator Law after spending years honing his courtroom skills as a trial attorney in the United States Army Judge Advocate General's Corps and at a local litigation firm.  He spent more than seven years on active duty as an officer and attorney with the Army JAG Corps.  As a JAG attorney, he specialized in a variety of areas of the law, including criminal law, consumer protection law and estate planning.  Thomas also deployed to Afghanistan in support of Operation Enduring Freedom, where he advised on rules of engagement, the law of armed conflict, and international law.  He continues to serve the country in the Army Reserve as a JAG attorney and holds the rank of Major.
Thomas has dedicated his entire legal career standing up for others who need an expert advocate.  He has been tested time and again, having tried numerous jury and bench trials, represented countless clients in high stakes cases, and even practiced law in a combat zone. Thomas brings that same dedication, passion, and expertise to Zator Law.
As the son of two public school teachers, Thomas also has a zeal for teaching about the law.  He authored a cover story for the North Carolina Lawyer about an experience practicing law in Afghanistan, entitled "A Lawyer Among Navy SEALs."  Thomas has also authored numerous articles for The Legal Geeks, an American Bar Association Top 100 Blog, using pop culture to teach about a wide range of legal principles.  He also won the Pennsylvania Bar Association's 2019 Legal Fiction Contest with his story titled "Victor's Justice."
Thomas was recently chosen for a Forty under 40 award by Lehigh Valley Business.  This award celebrates 40 of the Greater Lehigh Valley's most accomplished young businessmen and women who have been making headlines in their field and who share a commitment to business growth, professional excellence and to the community.
His most recent article "Hostile Venue:  Practicing Law In a Combat Zone" was published in the January/February 2020 issue of Pennsylvania Lawyer.   Thomas drew on his own experiences in this article regarding the key role of the Operational Attorney in combat zones in helping the U.S. military adhere to the Law of Armed Conflict.
In addition to writing about the law, he has extensive experience speaking on legal topics.  He has presented at the Greater Pocono Chamber of Commerce's 2019 Workers' Compensation Seminar and the Greater Lehigh Valley Chamber of Commerce's 2018 Workers' Compensation 101 event.  Thomas has also presented on legal topics at San Diego Comic Con, Star Wars Celebration (Disney's official Star Wars convention), and at Nerd Nite events in New York City, Philadelphia, and Washington, D.C.
Thomas is a member of the Veterans & Military Council Business Initiative of the Greater Lehigh Valley Chamber of Commerce.
For more about Thomas, please scroll down or download his brochure below.
More About Thomas
Originally hailing from North Carolina, Thomas graduated magna cum laude from North Carolina State University with a Bachelor of Arts in Political Science.  At NC State, he earned his commission as an officer in the U.S. Army through the Army ROTC program.  Thomas also served in the Student Legislature and was the Vice President of the university's Model United Nations.
Thomas then pursued his law degree at Campbell University School of Law, receiving the Major Sam Byrd and Richard A. Lord Scholarship and graduating cum laude.  He served as President of the Delta Thea Phi Law Fraternity, and President of the Student Recruitment Team.  Thomas also served as a Teaching Scholar during his final year, helping tutor first year law students.  He participated extensively in competitive teams, including as a member of the U.C. Davis Refugee & Asylum Law Moot Court Team, the National Trial Team, and the American College of Trial Lawyers Moot Court Team.
Thomas has earned many military honors including the Bronze Star Medal, the Meritorious Service Medal (with oak leaf cluster), Army Commendation Medal, Army Achievement Medal (with three oak leaf clusters) and the Afghanistan Campaign Medal, among others.
Thomas has made his home in Lower Macungie with his wife and daughters.  To call him a Star Wars nerd is not an insult – he wears it proudly and is considered quite the expert!  He is an avid runner, which comes in handy trying to keep up with his young daughter.
Congratulations to Thomas Harper on winning the Pennsylvania Bar Association's Legal Fiction contest for his story "The Ghost of Kyiv".  Tom is a previous winner of the Legal Fiction contest for "Victor's Justice".  The guidelines...