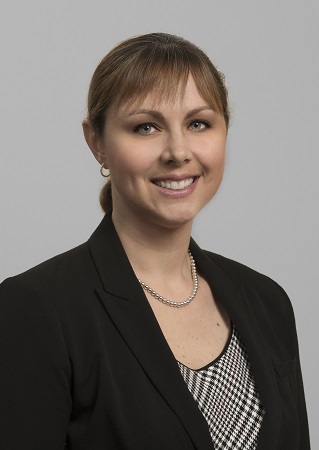 Jennifer R. Alderfer
Jennifer handles legal matters in a multitude of areas including business transactions, real estate transactions (residential and commercial), land development, municipal law, bankruptcy, and select litigation matters.  She represents business owners and real estate owners (individuals and entities) with a broad range of transactions including real estate acquisitions and sales, leasing, landlord tenant matters, tax assessment appeals, actions to quiet title, and contractual matters.  Her honesty, punctuality, and practical approach has served her clients (both public and private) well over the more than 19 years that she has been in legal practice.  She also currently serves as Assistant Solicitor to the South Whitehall Township Planning Commission and the Whitehall Township Industrial and Commercial Development Authority.
Jennifer serves on the Bankruptcy Committee of the Bar Association of Lehigh County. She also serves as a Board Member of the Western Lehigh Chamber of Commerce where she was recognized as Volunteer of the Year.
For more about Jennifer, please scroll down or download her brochure below.
More About Jennifer
She co-authored "BAPCPA and the New Provisions Relating to Small Businesses", 15 Widener L.J. 585 (2006); and authored "High Tech Hunks of Steel: Fixed-Site Amusement Rides and Safety Under State Regulation," University of Pittsburgh Journal of Technology Law and Policy (2003), and she has contributed to Network Magazine.  Jennifer was also selected as one of thirty nominees nationwide to attend the 2011 National Conference of Bankruptcy Judges Next Generation Program for up-and-coming bankruptcy attorneys being recognized for professional accomplishments.
After graduating from Penn State University with high distinction, and a Bachelor of Arts in International Politics with a minor in Spanish, she went on to earn her law degree at the University of Pittsburgh School of Law, graduating cum laude.  While in law school she was an Articles Editor for the University of Pittsburgh School of Law Journal of Technology Law and Policy, and she completed an internship with then Chief Judge Judith Fitzgerald in the Bankruptcy Court for the Western District of Pennsylvania.
Jennifer hails from a dairy farm in Troy, Pennsylvania but now makes her home in Montgomery County on a farmette with her husband, two children, two horses, and dog.  Jennifer spends her spare time traveling with her daughter to horse shows and enjoying the outdoors with her family.
Financial challenges are stressful, but there is almost nothing worse than the threat of possibly losing your home. If you receive notice that your home is in foreclosure or notification of a sheriff sale, don't lose hope.  While you'll need to act quickly, saving...