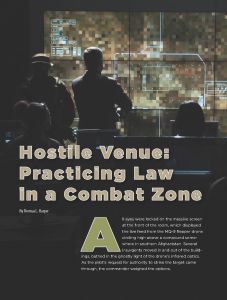 Thomas Harper's article, "Hostile Venue: Practicing Law in a Combat Zone" has been published by the Pennsylvania Bar Association in the January/February 2020 edition of Pennsylvania Lawyer.  The article is particularly timely given the increasing number of national news stories about the rules that govern warfare.    Thomas, a Major in the U.S. Army JAG Corps (Reserves) drew from his experiences serving on active duty, including his time in Afghanistan to help teach about the role military attorneys play in advising on combat operations.
Thomas also recently won the Pennsylvania Bar Fiction Contest for "Victor's Justice".
Tom also serves on the Veterans & Military Council Business Initiative of the Greater Lehigh Valley Chamber of Commerce and the Workers' Compensation Committee of the Lehigh County Bar Association.